There are countless different forms that aircraft owners have to deal with in relation to their planes, their financial standing, and their registration with the Federal Aviation Administration. Because of this, there might often be a lot of confusion in regards to some of the more specific ones. They each come with their own requirements, necessities, and similar components, so keeping track of them can always be a little too much. One of the most common forms people tend to have issues with is form 8050-98, so let's talk about what it is and what it entails.
Filing Form 8050-98
So, what exactly is the point of form 8050-98? Well, this form allows you to provide evidence of a security interest. This information will be, in turn, used by the aircraft registry in the formal recording of security interests. This is useful when it comes to establishing security when applying to loans, as well as other financial and mortgage matters that might involve the need for a security agreement.
What an Aircraft Security Agreement Requires
In order to record your aircraft security agreement through form 8050-98, the Federal Aviation Administration has very specific requirements. This is what you will be needing as part of the process.
The names of the parties to the agreement.

Words that state that the aircraft owner grants the secured party a security interest in the collateral.

Description of the collateral by name of the manufacturer, model designation, serial number, and N-number.

The ink signatures of the debtor/aircraft owner, showing the signer's title as appropriate.

A recording fee of $5.00 USD for each item of collateral (be that the aircraft, the engine, the propeller, or a location). This recording fee needs to be made payable to the Federal Aviation Administration.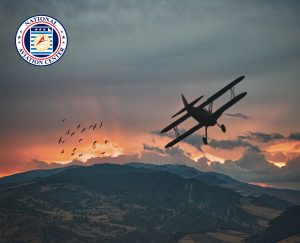 Other Items of Collateral
As you can see in the form's requirements, part of the overall process to obtain an aircraft security agreement will involve having to state what the collateral will be. According to the Federal Aviation Administration, "besides aircraft; engines and propellers capable of more than 550 rated take-off horsepower, propellers capable of absorbing more than 750 rated take-off horsepower, and air carrier spare parts locations may be identified as individual items of collateral." When establishing this collateral on the form 8050-98, remember to use the manufacturer name, model name, and serial number to describe engines and propellers. When it comes to spare parts, describe them using their city, state, and location.
Find Every Form at the National Aviation Center
Here at the National Aviation Center, we want to make sure that every aviation-related form is both easily accessible and readily available to anyone looking to file form 8050-98 or any other document related to an aircraft. These forms, be them a plane transfer of ownership, a new registration, or any other process, are all ready for you to fill up on our home page, but if you need some additional help with any of them, don't hesitate to use our website chat, fill out our contact form, or give us a call at 1-800-357-0893 and we'll answer your questions in no time.